Swedish pianist Jacob Karlzon (born 1970) is a stylistically and musically well-travelled man. He has used classical piano pieces as vehicles for improvisation, shared stages with big names in jazz such as Kenny Wheeler, Billy Cobham, Norma Winstone, Dominic Miller, Till Brönner and Tim Hagans, even dabbled with his metal socialisation for the 2012 album "More", and let electronic elements set the pulse of his music on his albums "Now" and "Open Waters". 
Jacob Karlzon became known to a larger audience as the congenial accompanist of singer Viktoria Tolstoy. 
No wonder he prefers to call himself an 'alternative musician' rather than a pure jazzman, whatever that may be. 
But let there be no misunderstanding: Karlzon is still a jazz man. Some like to call him an extremist, who pushes his instrument to the edge of its possibilities with immense energy in one song, only to strike up tender or even tender tones in the next. He does this particularly impressively on stage, where he plays and juggles with genres, sounds, electronics, atmospheres and dynamics, breathtakingly and highly virtuosically, sometimes with muscular bravura, then again with fragile sensitivity, but always unflinchingly and with boundless curiosity. 
On his latest work "Wanderlust", released in spring 2022 via Warner Music, Jacob Karlzon takes the high art of the piano trio to a new level.
 "I got into jazz because I love improvisation. This kind of spontaneous play achieves ever new levels in the direct communication with the audience, in the exchange of energy and emotion. Performing live for an audience is for me the 'original place of music', an ecstatic experience on both sides." 
 Currently the trio includes
Morten Ramsbøl on bass and
Rasmus Kihlberg on drums.
Both have collaborated with him for years on a variety of projects playing with the Viktoria Tolstoy Group and Human Factor.
There is a deep, mutual understanding between the three of them across all aspects of music which has created a strong interplay and a huge dynamic range involving everything from a deep, true groove to wide open soundscapes.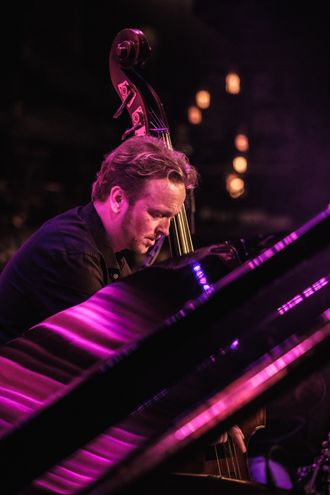 What the media says about jacob karlzon
"With this recording he takes his rightful place at the top of the European jazz piano elite" 
- Jazz Special 
"World Class Piano Jazz" 
- Lira Musikmagasin 
"He has now arrived in the Olympus of European Jazz-pianists"
- Jazzpodium
 "Homogenous Sound" ****
- AUDIO 
"Phenomenal"
- FAZ 
 "Like hardly any other jazz pianist, Karlzon masters the balancing act between simplicity and complexity." 
- WDR3 –Album of the week 
"Speaks through the keys of his Grand Piano like a philosopher"
- Aachener Zeitung 
 "Truly an alternative jazz musician – an adventure" 
- Kulturzeit
"Karlzon creates musical free spaces"
- Süddeutsche Zeitung